Overview
IOM's Enterprise Development Fund (EDF) is an innovative programme that supports livelihoods at the community level through private sector revitalization and economic development by targeting small and medium-sized enterprises (SMEs). The EDF provides financial capital to SMEs in primary, secondary, and tertiary economic sectors with a high demand for labour, with the objective of post-conflict economic recovery and inclusive economic development. Concurrently, targeting key sectors and businesses with the greatest potential to create jobs, the EDF encourages rapid and large-scale job creation. Piloted in Iraq in 2018, the EDF has evolved and expanded over the years to cater for different socio-economic contexts both within Iraq and globally. In Iraq, the EDF has supported more than 1,300 SMEs and created more than 5,700 jobs. The EDF's strength lies in its systematic structures that are compartmentalized into different processes to ensure accountability and flexibility to adapt and evolve. Since its inception, the EDF has been launched in five countries and continues to grow to this day, with strong foundation on research, market studies, and lessons learnt.
Employment
59% of total employees (87% of the new employees) reported their living conditions have improved.
89% of the total EDF employees are working full-time, 90% of the jobs created are full-time.
63% of total employees are between 18 and 30 years old, 67% of the newly hired employees are between 18 and 30 years old.
17% of the total employees are females, while 20% of the newly hired are females.
The number of businesses having health and safety measures in place has increased by 47%.
Compliance And Registration
The number of businesses registered with the Chamber of Commerce/Industry has increased by 56%.
The number of businesses registered with government different ministries has increased by 34%.
Businesses have higher registration rates and better working conditions compared to other businesses.
Revenue And Production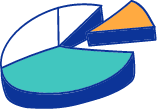 5% of business owners improved their products and services.
51% of businesses increased profits in the first 12-months.
Sustainable economic growth
The EDF funds strategic economic sectors that are labour-intensive and have potential for growth.
The EDF is adapted to different contexts, operating in rural and urban areas of Iraq, and in areas devastated by conflict, impacted by climate change, and affected by protracted displacement or high returns.
The EDF is tailored to the needs of different groups that face challenges accessing capital to start or grow their businesses, such as women, youth, and farmers.
The EDF promotes financial inclusion and supports business owners to transition into formal financial services (including bank accounts, savings accounts, and commercial credit opportunities).
The EDF incorporates components of private sector financing, balancing the objectives of economic recovery and development with best financial practices to identify and invest in businesses with the best potential for growth.
Selection Process
Planning
Release call for Expression of Interest (EOI)
1
Application
Full application submitted
2
Selection
Selection of businesses
3
Implementation & Monitoring
Project completion
5